Several objectives have been set for 2030 and 2050 in Colombia and much of the world. Reducing carbon emissions has become a task in which many are involved, one of the initial steps being to acquire a hybrid or electric vehicle.
However, after having one at home, the question arises as to where or how to charge it. There comes into play the fundamental role that energy and refueling companies will play to see more and more electrified cars on the road, and thus reduce the CO2 footprint by up to 51% within 8 years in Colombian territory, as ambitiously established by the national executive.
To deepen and discover the role of these companies, Latam Mobility organized a specific panel during day 2 of Latam Mobility Colombia 2022 called: Sustainable Mobility: The Great Opportunity for Energy Companies? Simón Pérez, Innovation Leader of Celsia Energía, Guillermo Prada, Head Of Network Development Colombia of Enel, Roberto Quiros, Advisor to the Executive President of ICE and José Isaza, Head of Transactions Unit T&D Energía of EPM, who had a pleasant conversation under the moderation of Natalia Gutiérrez, President of Acolgen.
Precisely, in terms of energy demand and the plans that sustainable mobility brings with it, Isaza states that the expected growth in energy demand will be 5% in 2030, motivated by electric mobility, while by 2040 it will be positioned at 25%. "These are quite important challenges, the biggest of which is to incorporate all the needs that the system as such requires to meet the demand of any type, from both mobile and non-mobile sources".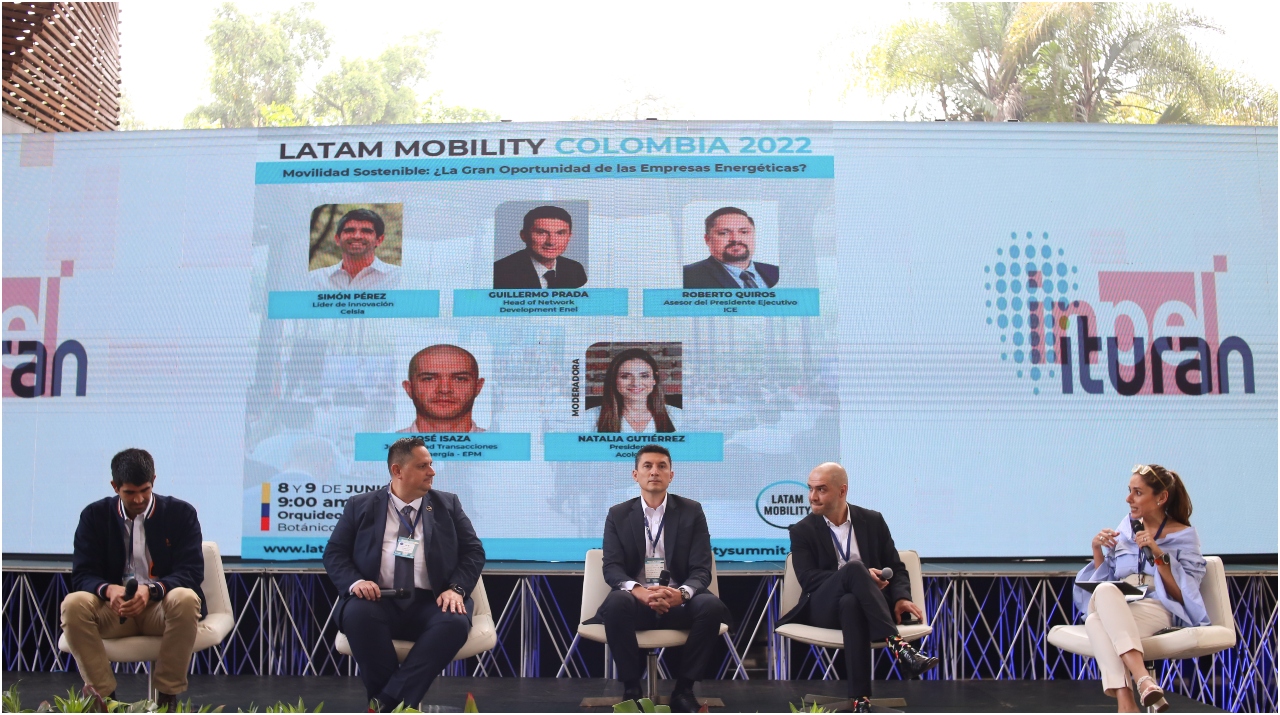 However, from the Enel Group's side "it is not enough", meaning that Prada asserts that there have been positive results in terms of the sale of electrified vehicles in Colombia, the Latin American region, Europe and China, but it is extremely important to accelerate the transition process towards electric cars. "At the rate we are going, we are not going to achieve the decarbonization goals to which we have committed ourselves."
To Come Up With Solutions
The meeting of the main protagonists of the sustainable sector in Medellín thanks to the Latam Mobility Summit 2022 served as a space to propose ideas in favor of sustainability. There, Guillermo commented that establishing mandatory, binding and direct goals regarding the penetration of electric vehicles could be one of them to accelerate the process.
"This goal has to be built among all the actors involved in the process with the intention of being able to define how this transition would be, of course seeking to make it as fast as possible to reach the 1.5 degrees to which we have committed ourselves."
Enel's contribution is evidenced by its energy infrastructure, in addition to the "Bogota Region 2030" project, which aims to strengthen the infrastructure by developing 30 new power substations for that year, where they have carried out 200 new megawatts of power in the last two years to be able to support the operation of electric buses.
On the other hand, Celsia sees the challenges from the scalable aspect, as Simón Pérez explained: "We find ourselves in condominiums and residential units as the fourth or fifth electric vehicle arrives, so the challenge is to know how to scale these distribution networks to support the growth. Similarly, it happens with the issue of mass transportation."
"From the energy transition vision, we expect to close the year with more than 200 megawatts in solar. That complements very well that the transition has a truly positive impact on the environment."