According to data from the National Automotive Association of Chile (ANAC), between January and October 2019, 719 hybrid cars were marketed, a figure that has increased exponentially, considering that during 2022, 2,552 units of hybrid vehicles (HEV), 474 plug-in hybrid vehicles (PHEV) and 2,583 micro-hybrids (MHEV) were sold.
In the midst of this scenario, Schneider Electric, one of the benchmark companies in energy management and automation, stands as one of the key players in the boom in new energy vehicles.
The company unveiled a new fleet of 15 hybrid vehicles for its executive staff, as an incentive to decarbonization and energy transition.
Related content: Electromobility Among Key Points at Argentina-Japan Bilateral Meeting
Car Features
The new vehicles consist of an electric motor and an internal combustion engine, which enables them to significantly reduce the CO2 emissions released into the atmosphere, compared to conventional motor systems.
This acquisition, in line with the company's sustainable strategy, is in addition to the 100% electric vehicles that operate at Schneider's Santiago Plant for the distribution of goods.
In this sense, Mario Velázquez, Country President of Schneider Electric in Chile, highlighted that this great step represents the beginning of the path that will allow them to continue implementing initiatives to consolidate a more sustainable and environmentally friendly environment in the country.
"We are proud to present this new line of hybrid vehicles as a solution that brings us closer and closer to the net zero goal", said the executive.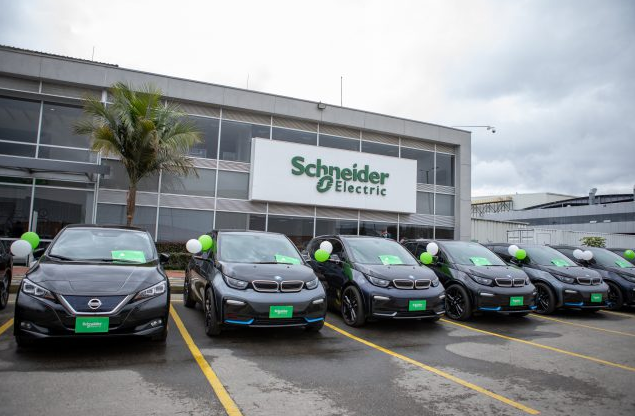 Outlook for 2023
According to ANAC figures, conventional hybrids have registered the highest unit sales so far this year, with 611 units sold during the first quarter (41.4% growth), followed by 100% electric vehicles, other types of hybrid categories and vehicles with hydrogen propulsion.
Given this scenario, Velasquez believes that the rise of sustainable mobility is great news for Chile, both for the improvement of corporate logistics processes and for the cultural change required by the energy transition.
However, the Schneider Electric executive assures that there are still many challenges facing the massification of sustainable mobility, both from an environmental point of view and as a profitable business model.
Latam Mobility in Chile
Taking into account the great advances in electric cars, Latam Mobility, the largest sustainable mobility community in Latin America returns once again to Chile on August 29 and 30.
The meeting will bring together leading authorities from the public sector and prestigious private companies to provide perspectives on sustainable mobility in the region.
For participation information, please contact us at info@investinlatam.org