Millions of people in Latin America and the Caribbean depend on public transportation for basic commuting and work activities, but with urban growth in the region, the threat of climate change and environmental pollution, business models must be deployed to drive the adoption of new, less polluting modes.
In this sense, Latam Mobility, the largest community in Latin America linked to sustainable mobility, organized in Mexico City on October 11 and 12 the in-person meeting "Latam Mobility: Mexico 2022", where the most important companies and regional representatives met to discuss the progress, challenges and prospects of mobility and sustainability in the country and the region.
On the 11th, the panel "The Road to Zero Emissions in Public Transportation" was held, with the presence of Isabel Miranda, Technical Commercial Head of Enel X Mexico; Ana Elisa Torres, Strategic Mobility Management Coordinator in Cuenca, Ecuador; Alejandro Villegas, Planning, Metropolitan Sustainability and Institutional Linkage Director of Semarnat; Rosario Castro, Metrobús General Director, and Luis Francisco Flores, Hitachi Energy Mexico Country Manager.
The panel was moderated by Jorge Suárez, VEMO's Commercial Director, who gave important numbers at the beginning: "A 100-passenger bus weighs more or less about 18 to 19 tons, but each year due to its intensive use it generates five times its weight in CO2. However, the emissions per passenger are lower, so we must consider strategies in public transport to make transfers sustainable".
Key Point: Sustainability
In relation to the lessons learned in Enel X projects, Isabel Miranda explained that Santiago de Chile and Bogota, Colombia, are the two countries outside China with the greatest electric mobility. "The Chilean capital has 250 electric buses, along with 160 chargers. All this requires technical and financial planning. We have the know-how at the electrical and generation level, and we believe that progress must be made in terms of regulation in Mexico, with incentives, to replicate what has been done in those two cities."
The Enel X representative explained that for a specialized infrastructure to be sustainable, it requires planning and monitoring of standards. "In Mexico City, to make a competitive layout, it must include not only the recharging or maintenance of buses, but also related to civil and electromechanical works, as well as the electrical design of interconnection to the national grid. It is a coordinated work, almost up to the minute, so that the electrical equipment to be installed in all this infrastructure speaks the same language".
In addition, Miranda emphasized that the company also takes into account other important aspects. "We have a policy that is stop work, which means that if any work is high risk we stop the activity, because for us it is important to avoid unnecessary risks, as we also take into account all environmental standards on the issue of waste from planning, so that such infrastructure is really sustainable."
You may also be interested in: Porsche, Blink Charging, Wallbox, Siemens, Vehya, Power Electronics and Evergo are Committed to Strengthening the Charging Infrastructure in Mexico and the Region
Intermediate Cities
For her part, the coordinator of strategic mobility management in Cuenca, Ecuador, Ana Elisa Torres, indicated that she represents an intermediate city, the third in the country, with approximately 600,000 inhabitants, and that they have as a focus to incorporate different strategies to reduce emissions, such as the implementation of electric buses and their infrastructure; the creation of bicycle lanes that improve the conditions of users.
"As an intermediate city we have the advantage of being able to plan thinking about the problems that cities of greater capacity have had, and at the same time, to be seen as pioneers in implementing different strategies for sustainable mobility", and indicated that through cooperation with Germany, "we were able to access credits with the KfW development bank to implement mobility strategies with a project for a low-emission historic center", said the representative of Cuenca, Ecuador.
"It is important to have a planning focused on reducing emissions, and for this, it is necessary to have a public policy from the local administration to implement electromobility plans. In Cuenca we have a law to change the public transportation fleet until 2025, so 14 electric buses will be incorporated to carry out the necessary studies to move towards an all-electric fleet. It must be taken into account that in order to achieve the objective it is necessary to have a long-term vision.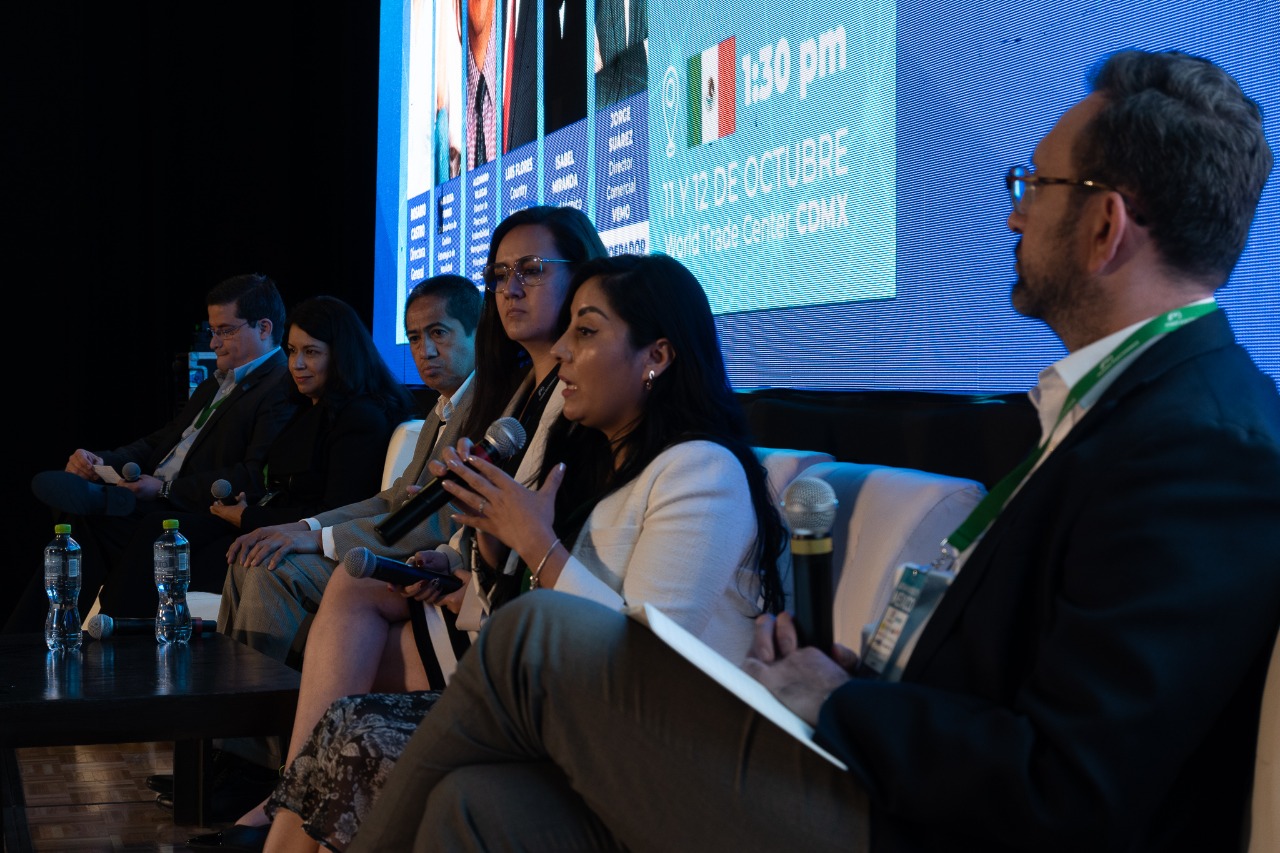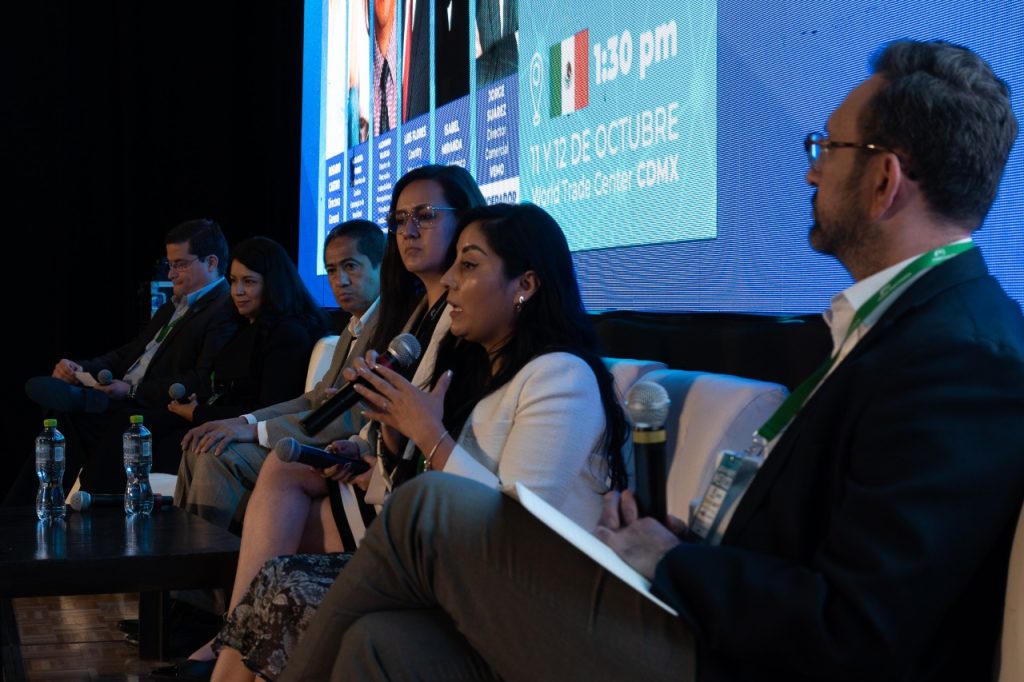 Process of change
Rosario Castro, General Director of Metrobus in Mexico City, explained that the agency seeks to promote the structure of a unified transportation system, which currently transports 1.7 million passengers daily. "We started working on identifying immediate needs, such as the renewal of the fleet whose useful life was ending, as was the case of Line 3. We started a pilot plan to obtain information on the performance of the units and worked on identifying the technical characteristics of the units that would provide daily service to 200,000 passengers."
"We started by leasing one unit as a pilot with one-loader infrastructure and incorporated the following year, in 2021, nine units with six additional loaders. This transformation led us to face challenges to combine the legal and technical aspect, which allowed us to give it sustainability, so we modified the concession to 15 years to amortize the useful life of the unit. One of the great advantages that the model has shown us, according to the results, is that there is a significant savings in operating costs of 30%", explained Castro.
The Metrobús representative pointed out that they currently have 50 units in the manufacturing process, while they advance in new solutions. "Our first corridor on emissions will be line 3, which will have 60 units, and we are analyzing the next one, line 4, with different characteristics, where we are testing with 15-meter buses. We have seen a lot of interest, especially from manufacturers, and it has been fundamental to work in coordination with all the actors in this process of change. That is the main experience in terms of the transformation of line 3″.
Comprehensive evaluation
For his part, Luis Francisco Flores, Country Manager of Hitachi Energy Mexico, pointed out that in electromobility, the short-term vision must be avoided. "When starting a project, even a pilot one, a comprehensive assessment must be made, including charging points and types; the number and type of buses; the energy required, among others. The important thing is to think long term and make the right investment from the beginning to avoid complications in the future."
In addition, Flores explained that projects have regulations to comply with, as well as social issues to resolve. "In a project we did in a small French town, people did not want to see catenaries (overhead power cables), so fast charging solutions, flash charging, were installed at every third or fourth stop, where an intelligent arm performs the charging in the 20 to 25 seconds it takes for people to enter and exit the bus."
"This Hitachi technology allows the bus to complete its route cycle, and when it reaches the end of it it stops to charge for two or three minutes, and continue on its journey. You can have the bus running all day, without having to go to a charging yard, and without relying on the driver to do any maneuvering: it switches on at the right point and when it goes to start, it switches off, without being influenced by human error. It is a safety aspect, but also a benefit to society, because there is no noise or visual impact, which makes it easier for people to assimilate the new technologies," concluded Flores.
Equity and accessibility
Alejandro Villegas, representative of the Megalopolis Environmental Commission, a coordinating body for policies, programs and projects in the central zone of Mexico, whose objective is air quality in the capital of the Aztec country, and the states of Mexico, Hidalgo, Puebla, Tlaxcala, Morelos, and Querétaro, pointed out that currently, when renewing a bus that is 10 or more years old and introducing electrified buses, it is more feasible from the economic, environmental and health protection point of view.
"Not only do we have the massive technologies of long 12-meter articulated buses, but also electric vehicles of 15, 20 and 25 passengers that are feasible and can serve routes especially in intermediate cities. We are closer to avoiding public health costs due to air pollution with the introduction of electric vehicles of different segments, as well as providing equity and accessibility to the population in terms of mobility", explained Villegas.
"The main motivation of this national strategy is the mitigation of greenhouse gases, although as we go along, other motivations that smaller cities may have to introduce electric mobility are identified or aligned, such as environmental, social equity and road safety. These are different social and public policy motivations that intermediate cities have," said Alejandro Villegas.