Sustainable mobility goes far beyond low- or zero-emission vehicles, as it requires precise coordination between different sectors in order to make progress towards the 2015 United Nations Sustainable Development Goals.
Three key sectors to move towards sustainability were represented by representatives of leading companies at the "Latam Mobility: Colombia 2022" panel "Financial Sector, Insurance and Infrastructure Management as Allies of Sustainable Mobility", which took place at the Orquideorama Botanical Garden in Medellin on June 8.
The meeting, organized by Latam Mobility, the leading community in sustainable mobility in Latin America, was attended by representatives of General Motors Financial Colombia, VG Mobility, UK Export Finance (UKEF) and Finesa, under the moderation of Jessica Ordoñez, Sustainability Director of Invest in Latam.
All in One
Santiago Borda, General Manager of General Motors Financial Colombia, explained that the financial sector is currently looking to package everything related to an electric vehicle, including services, to facilitate the credit process for customers, which adds significant added value.
"The demand for electric vehicles has had a significant rise, and there is no problem with the supply of credit. However, there is a gap in prices, conditions, terms and competitiveness. At GM Financial Colombia we seek to support and ensure their promotion, as well as to make these ecosystems massive," said Borda.
In addition, the GM representative considers that leasing will be important to know the residual value of vehicles, and serve as a source of financing for customers.
You may also be interested in: Latam Mobility Colombia: President Duque and City Leaders Highlight Progress, Challenges and Opportunities for Sustainable Mobility in the Region
Three Vital Points
For Andrés Jaramillo, CEO of VG Mobility, a global energy logistics company that is in charge of the entire transition process towards sustainability, electric mobility is an ecosystem that has three key points that are part of the learning process: batteries, energy and charging infrastructure.
However, the executive explained that it is not enough to know only these points, but that solutions must also be offered, since the capital expenditure (Capex) is higher in these transition processes, and they only generate dividends when they start operating, so offering facilities such as starting payments when the business starts is an important option.
Regarding the future of mobility, Jaramillo indicated that "we are moving towards a MaaS (Mobility as a Service), where everything is included in the same invoice, together with a greater variety of offers and solutions for users or organizations.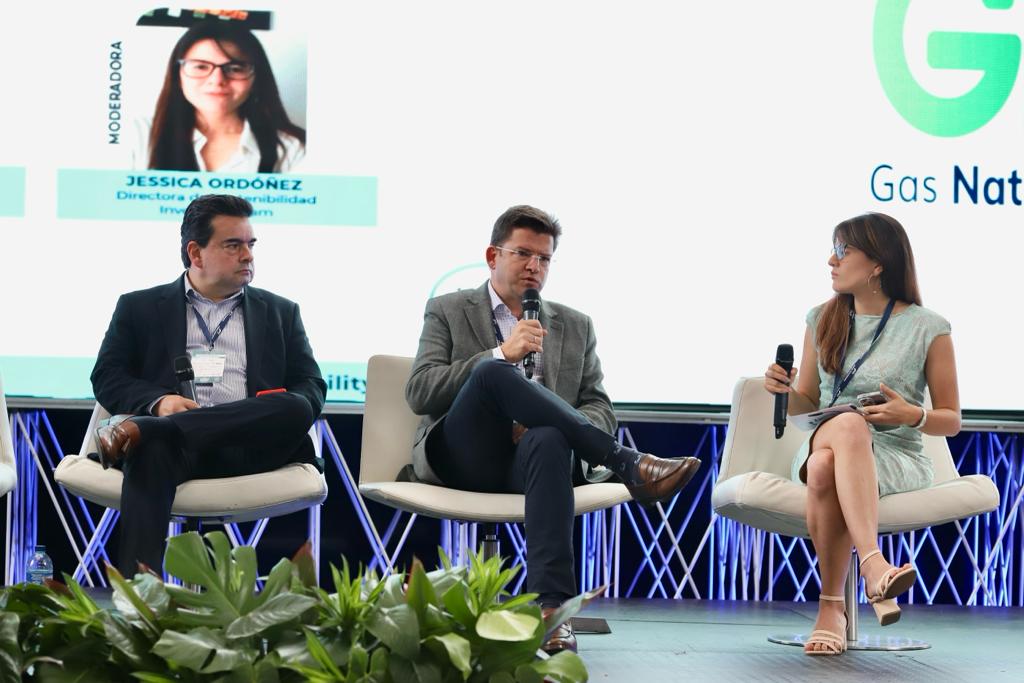 Global Investments
The panel "Financial Sector, Insurance and Infrastructure Management as Allies of Sustainable Mobility" was attended by Camilo Neira, Regional Head of UK Export Finance at the British Embassy in Colombia, the operational name of the Export Credit Guarantee Department, a ministerial department of the UK government.
In his speech, Neira indicated that they currently have bus projects in Panama, low emission buses in Mexico, and an investment of 750 million dollars in Colombia through Ecopetrol, for the production of green hydrogen in the country.
In addition, the executive explained the functioning of his organization: "Our financial structure acts in two ways, granting direct credits from the British Treasury, and bank guarantees, with a risk profile assumed by the British Crown, once a series of eligibility requirements have been met. Currently, we have a credit quota of US$5 billion for sustainable projects and solutions."
"Municipal entities or companies looking for a credit boost should know that there are other options beyond commercial banking. We know that sustainability costs, but from UKEF we offer credits at good rates, supported by the expertise of the British government. We want to support sustainable initiatives in the Colombian market," said Neira.
Sustained Growth
Pablo Sanint, president of Finesa, a financing company specializing in credit and insurance policies with more than 20 years of experience, indicated that financing for hybrid and electric vehicles has increased significantly in the last two years.
In Colombia, 20,000 units have been sold in two years, which implies a market penetration of 7%. Of these, between 80% and 90% were through financing," Sanint explained. However, he added that in relation to cargo vehicles, there are currently more than 500,000 vehicles based on fossil fuels, and 70% of them are 10 years old or less, while the rest are more than 15 years old.
Looking to the long term, the Finesa executive projects that "by 2040, we estimate a vehicle fleet that is not so much hybrid, but more towards electric, even with hydrogen, along with other changes, including the vehicle ownership model. Of course, we are aiming for sustainability solutions".
Below is the video of the first day of "Latam Mobility: Colombia 2022":
Written by Antonio Vilela