In the competitive race for vehicle electrification, major automotive manufacturers have accelerated their strategies to lead the electric mobility market in the short term.
In this regard, Hyundai launched the brand new IONIQ 6, the second model of its IONIQ brand of battery electric vehicles (BEV).
Its aerodynamic design and innovative use of sustainable materials reflect the values of customers seeking this type of vehicle.
IONIQ 6 is equipped with advanced technologies and customized features and spaces, while offering a high range that redefines the boundaries of electric mobility.
Read also: Chile Shows Progress in Electromobility and Sustainability during IDB Annual Summit
Features
The IONIQ 6 has an electric range of up to 614 km per charge, according to the WLTP standard. In the 77kwh RWD battery versions with 18″ wheels.
In addition, it offers ultra-fast 400V/800V multiple charging, made possible by Hyundai Motor Group's Electric Global Modular Platform (E-GMP).
It also boasts what may be Hyundai's most aerodynamic styling to date and a host of functions and features that enhance the electric mobility experience, such as two-color ambient lighting, Speed Sync lighting (synchronized with vehicle speed), electric performance settings and electric active sound design (e-ASD).
Exterior
The emotional and aerodynamic design of IONIQ 6 is inspired by the timeless design of the Hyundai Prophecy Concept EV, unveiled in March 2020.
IONIQ 6 represents the concepts of 'sensual sportiness' and 'optimistic futurism' by putting the focus on the emotional bonds between humans and automobiles.
IONIQ 6's unique Streamliner typology is characterized by clean, simple lines and an aesthetic and aerodynamic design that is defined as Emotional Efficiency.
With a single-curved aerodynamic profile and carefully crafted contours, IONIQ 6 has Hyundai's lowest aerodynamic drag coefficient: 0.21. This provides a clear advantage in energy efficiency and enables a longer driving range: up to 614 km in mixed cycle (WLTP) on the 77kWh battery and 18″ rim RWD versions.
It features a long wheelbase that maximizes interior space and creates a unique exterior profile. This holistic approach, defining both interior space and exterior design, is an unconventional way to design a vehicle.
Platform
The vehicle is Hyundai's second model based on the company's Electric Global Modular Platform, known as E-GMP. It offers users greater time efficiency by enabling faster charging and longer range.
The absence of a transmission tunnel provides a flat floor under which the batteries are stored. The E-GMP platform allows the car to operate with two motors that offer extra power and torque, as well as the possibility of equipping it with all-wheel drive.
It incorporates Vehicle to Load (V2L) technology, which allows users to use or charge any electric device while on the move (V2L interior) or with the car parked (V2L Ext and Int).
The car can power other electrical devices (110 / 220V) anywhere with a maximum power of 3.68 kW.
Design
Hyundai designers have demonstrated the company's responsible attitude by equipping the IONIQ 6 interior with various sustainable materials.
Inspired by the brand's Progress for Humanity vision and Streamliner concept, the interior is comfortable, practical and a personal space to relax.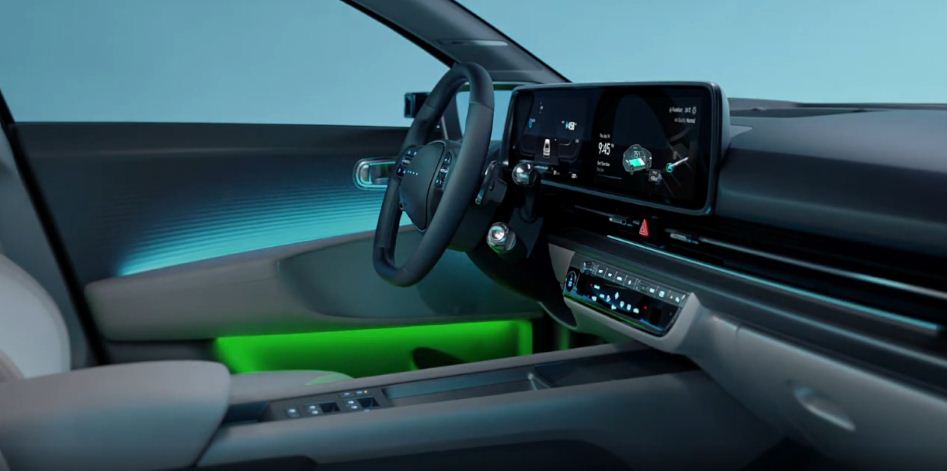 The long wheelbase (2,950 mm) and E-GMP platform provide the most front-row legroom in the Hyundai range. The new user-centric architecture is completed by an integrated dashboard with digital side mirrors and a bridge-like center console.
The Hyundai IONIQ 6 2023 is the second member of the Korean brand's new electric family.