Ensuring that a company's operations run safely and efficiently is a major challenge, which is why transportation and fleet management are of great help in driving operational efficiency and productivity towards sustainable mobility, as well as promoting the safety of vehicles and drivers.
In this context, Latam Mobility, the leading community in sustainable mobility in Latin America, organized at the Orquideorama Botanical Garden in Medellin, the face-to-face meeting "Latam Mobility: Colombia 2022", where leading companies in these sectors participated in the panel "Transportation in business and fleet management solutions", under the moderation of Jaime Ruiz, co-founder of Cities Forum.
The panel was attended by representatives of Autocab, AbInBev, Geotab and Renting Colombia, General Motors, Volvo, Porsche and Renault who presented the progress, challenges and prospects for sectors that have been driven by technological advances and the needs of companies and users.
Metrics as Catalysts
Pedro Giraldo, Business Development Manager Latam of Geotab, a company that offers telematics hardware solutions for the Software as a Service (SaaS) sector, indicated that they currently have 200,000 vehicles with their technology in Latin America, of which almost 18,000 are in Colombia.
The executive pointed out that fleet monitoring should be an important point for companies, as well as the use of metrics, in order to seek solutions that offer greater sustainability. "There are solutions available, and vehicles should not be a headache, but provide data and value."
"Data is critical to connect from basic to more complex metrics, so data policies must be in place. Sustainability is not fashion, it is going practical, with hard data and established processes," emphasized Giraldo.
You may also be interested in: Latam Mobility Colombia: President of Colombia and city leaders highlighted advances, challenges and opportunities for sustainable mobility in the region.
Indicators to move forward
For her part, Sandra Montoya, Sales Manager Latam at Autocab, a cab and private hire booking and dispatching software solutions company, said that they currently have 38,000 connected drivers, and offer solutions associated with new consumer behaviors.
"We seek to connect with consumers through corporate services, captivating users with solutions that offer convenience and reliability. In addition, we promote sustainability in the cab industry through technologies that provide budgetary solutions, consumption and indicators to mitigate climate impact," said the executive.
In addition, Montoya pointed out that "companies and allies in the sector must synchronize in order to move forward with the mobility transition. Autocab invites all actors to accelerate their indicators in order to advance in the proposed objectives".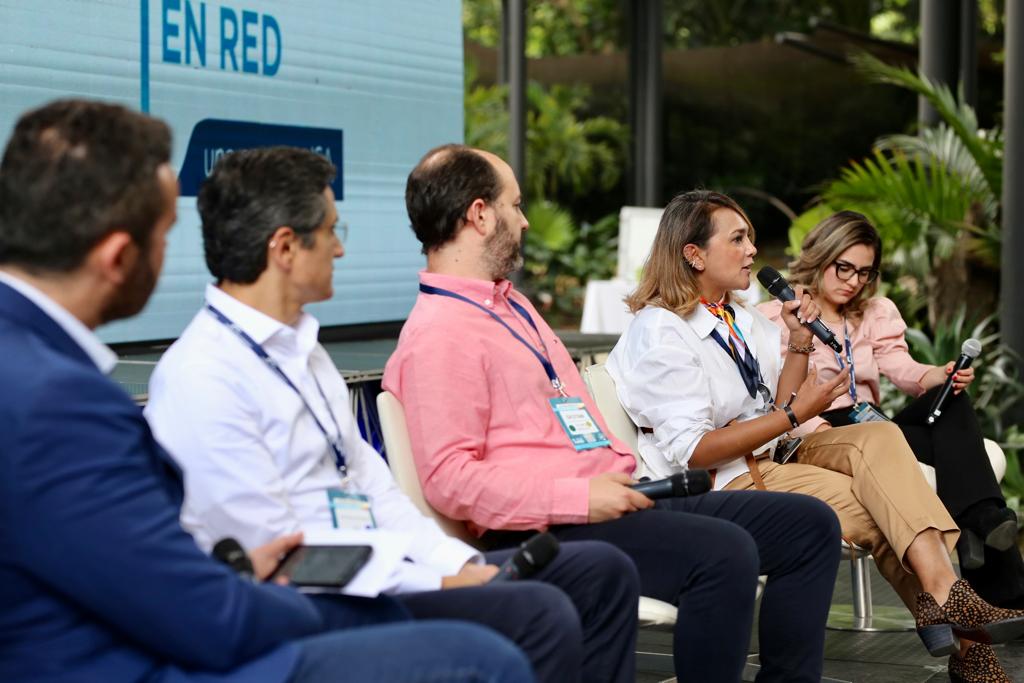 Alliances as part of the process
Juliana Lugo, Sustainability Lead Colombia of Bavaria, a subsidiary of Anheuser-Busch InBev (AB InBev), a multinational beverage and beer company based in Belgium, was present at the panel "Transport in business and fleet management solutions".
The executive indicated that her company aims to reduce emissions in its value chain and that one of its objectives is to change its fleet with new zero-emission vehicles. However, she explained that they currently have 257 trucks in Colombia, and expect to move forward gradually.
"We have challenges, such as heavy-duty trucks, so alliances must be sought for the viability of sustainable projects. Conditions are being enabled to pass these challenges, through public and private sector links, together with technological innovation, which will continue to drive business models," said Lugo.
Taking on challenges
Finally, Fabio Humberto Carvajal, Logistics Leader of Renting Colombia, a company that offers specialized mobility solutions, explained that after the COVID-19 pandemic, customers are looking for cleaner products or services, so there must be a process of adaptation to the new changes.
He added that his company has at its disposal more than 10,000 vehicles with telemetry, technology that allows remote measurement and sending of information to the system operator, and that thanks to this, complex questions can be answered through these data, but it is necessary to know them.
In addition, Carvajal was emphatic when talking about sustainability: "We must address the challenges posed, such as environmental, social and corporate governance (ESG) factors. Our companies must respond to the sustainable objectives set out".
Below is the video of the first day of "Latam Mobility: Colombia 2022":
Written by Antonio Vilela