The mitigation of the COVID-19 pandemic has allowed most of the world's cities to resume the usual rhythm of activities, which means the return of vehicular congestion in large metropolises.
This scenario represents a great challenge for mobility applications to optimize their digital services and present solutions to governments, companies and citizens in general.
In this sense, the "Latam Mobility: Colombia 2022", the most important sustainable mobility meeting in Latin America, brought together business leaders and representatives of the public sector in the panel "Innovative Apps for the Urban Mobility of the Future", with the aim of exchanging ideas and projects in favor of vehicle decongestion.
Autocab's Country Manager in Colombia, Diego Pinzón, highlighted that through sophisticated software, the platform has a shared responsibility to solve the mobility problem. Among the solutions offered are "Autocab Connect" so that different providers can offer services both locally and internationally.
Pinzón also revealed that in 2023 they expect to launch a tool that will be able to connect with other means of transportation, such as the Metro and generate relevant information for users.
Technology as a key factor
The Country Manager South & Central for Latam of Google Waze, Marcos Órdenes, considers the application and empowerment of new technologies and artificial intelligence in vehicles to be fundamental.
He assured that through innovation it will be possible to optimize cars, improve trips and reduce the time people spend stuck in traffic.
"We are living a real revolution in the automobile. In the next five years 80% of cars will have their own connection, and the challenge is to manage and empower them seeking a more structured mobility and to dream of a world without traffic", stressed Órdenes.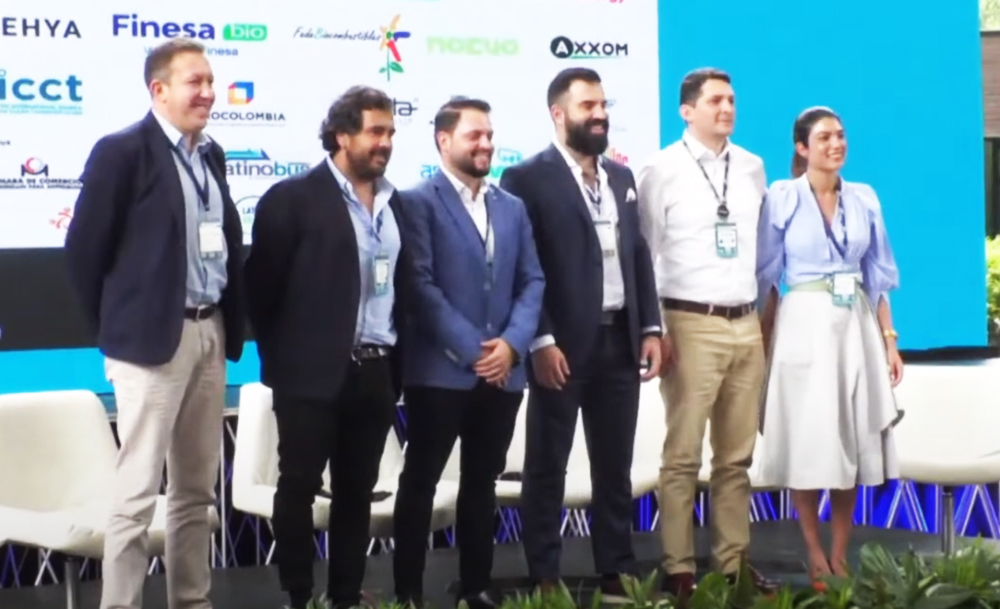 You may also be interested in: Regulations to unify charging criteria and consumer education: keys to automotive transition in Colombia
Corporate Mobility
Increasingly, the commitment and responsibility of companies and corporations play a fundamental role in the reduction of emissions and decarbonization of transportation. In this sense, platforms such as Appimotion focus their technology for the corporate sector to reduce and offset its carbon footprint.
The CEO of Sistemas Inteligentes en Red-Appimotion, Ernesto Pardo Becerra, assured that they are highly committed to developing technology to generate wellbeing in cities and contribute to the transformation of countries to become more sustainable and environmentally responsible.
He emphasized that they support important aspects such as the active role of companies in reducing and offsetting emissions; that employees have a high environmental, social and cultural awareness of what transformation implies, and help governments to generate forceful strategies to generate sustainable mobility in the territories they administer.
"Sustainable culture is based on building a community. Schools, companies, cities in general together to combat climate change are regions that become sustainable. Everyone must be connected," said Pardo.
A Niche Opportunity
The CEO & Founder of the Venezuelan mobility application Ridery, Gerson Gómez, explained how he came up with the idea of starting the project in the midst of a complicated environment caused by the economic and political crisis the country is going through.
He pointed out that the deficient public transportation in Venezuela represented a significant opportunity to undertake the project, which currently has more than one million users and more than 10,000 affiliated drivers.
With respect to the contribution in terms of mobility, the Ridery executive pointed out that between 25 and 28% of its customers own their own cars, which is why they serve as a platform that contributes to traffic decongestion.
Regarding future plans, Gómez reported that they are considering to also cover the cargo transportation sector to make it more efficient and economical through connectivity.
Digital Solutions in Medellin's Metro
The replacement of plastic by digitalized methods such as QR codes are part of the current innovation process being developed in the Medellin Metro.
The commercial coordinator of the referred public transport system, Juan Camilo Gómez, said that through new technologies they are managing the next step to impact the quality of life of citizens.
"We are committed to sustainability. There is a massive impact, energy efficiency is greater and the data issue allows us to foresee what is coming in the future in order to adapt and be prepared", he explained.
He defined the metro culture as a positive relationship between users and considers it essential that mobility projects are carried out according to the reality of each city and not with a generic model, since the contexts are not the same.
Gómez took advantage of the "Latam Mobility: Colombia 2022" forum to point out the importance of the public and private sectors working hand in hand, and opened the door to investments and long-term mobility plans.