The sales of electrified light vehicles in Brazil had in October the third best month in ABVE's historical series, with 4,460 units sold.
With these numbers, sales in the first ten months of 2022 reached a total of 38,663 vehicles, 10.5% more than the 34,990 of all of last year.
The Brazilian electrified market should close 2022 with total sales between 44,000 and 46,000, which represents a growth of around 25% to 31% in relation to 2021.
In 2022, the evolution of light electrified vehicles sales in Brazil will follow the same intense pace of growth that has characterized this market in the last three years.
Read also: Brazil Registers a Historic Increase in Electric Vehicle Sales
BEV
But the great highlight of the first ten months of the year were the sales of 100% battery electric vehicles (BEV).
This segment reached 6,831 units sold from January to October 2022 – an increase of 41.5% over the total number of BEV vehicles in the entire historical series, from 2012 to 2021 (4,827).
Brazil already has a fleet of 100% battery electric light vehicles of 11,658 units by October.
According to the President of ABVE, Adalberto Maluf, this growth reflects the greater confidence of buyers in the diversity of products offered by the market and in investments in public and semi-public charging infrastructure.
"Unlike the perception to the contrary, Brazil is advancing, yes, in public charging infrastructure for electric vehicles" – said the president of ABVE.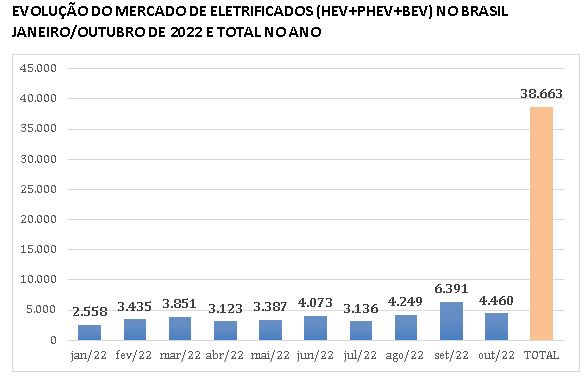 "According to ABVE's calculations, Brazil already has more than 2,800 public and semi-public charging stations in operation, in addition to the private charging network of electric vehicle dealers.
"We should reach more than 3,000 public and semi-public charging stations by the end of 2022. And, according to estimates by ABVE members, we will reach the 10 thousand mark in three years. The fact is that the recharging infrastructure is following the evolution of the plug-in electric vehicle market in Brazil" – concluded Adalberto Maluf.
Evolution
The October 2022 figures for the electrified light vehicle market (4,460 units) indicate a 60% growth in relation to the same month in 2021 (2,787).
Still, they are down 30% compared to the 6,391 electrified vehicle registrations in September – but this month was by far the best in ABVE's historical series.
The accumulated sales from January to October 2022 (38,663) shows an increase of 43.51% compared to the same period in 2021 (26,940).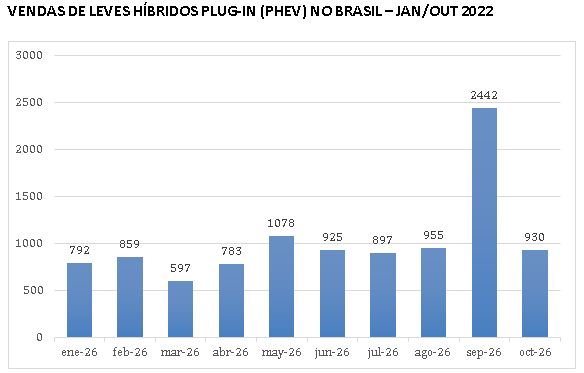 Electrified light vehicles include BEV (100% battery vehicle), PHEV (plug-in hybrid electric vehicle), and HEV (hybrid electric vehicle).
It does not include trucks, buses, and very light electric vehicles (e-bikes, scooters, electric scooters, etc.).
In relation to September, gasoline HEVs had an increase of 74.71%.
When compared to October/2021 (100), an exponential growth of 791% is observed in this segment, which can be attributed to the new models available in the market and a greater adhesion to this type of technology by consumers.
In relation to September, PHEVs had a retraction of 61.92%. But when compared to October/2021 (887), there is an increase of 4.85%.

In October, the electric light commercial vehicle market followed the characteristic seasonality of this segment, with months of high sales concentration and months of low demand.
The highlight of October is the arrival in Brazil of a new player in the market, Ford, which begins to launch the first electric models of the E-Transit, to compete with models from BYD, Peugeot, Renault, and Citroën.