With the aim of massifying electric mobility and promoting the use of zero-emission vehicles, BYD is implementing important strategies to consolidate its technology and, at the same time, be environmentally friendly.
After announcing a few weeks ago an ambitious offer of electrified cars in Europe, the Chinese brand also sees interesting potential in the Latin American market. In this regard, the manufacturer delivered a unit of the BYD D1 electric car to be evaluated by the Civil Police of the State of São Paulo.
Developed with application services in mind, but also marketed as a conventional electric car, the BYD D1 EV will be supervised by several units and divisions of the corporation.
Read also: Maz Mobi, Electrobike, AllRide and the Mexican Postal Service Shared Ideas for Implementing Smart, Safe and Emission-Free Last Mile Mobility
Features
The unit made available by BYD is black in color, characterized by the visual standard used by the institution in the state of São Paulo, with beacons, siren and stroboscopic LEDs, in addition to a cell in the trunk, among other elements.
This is not the first time BYD has supplied vehicles to Brazilian authorities. Recently, the Chinese company delivered units of the e5 electric sedan to the São Paulo State Military Police.
The use of electric vehicles by the corporation contributes mainly to fuel savings, low cost of spare parts and low maintenance of the fleet, in addition to reducing carbon emissions and pollutants to zero.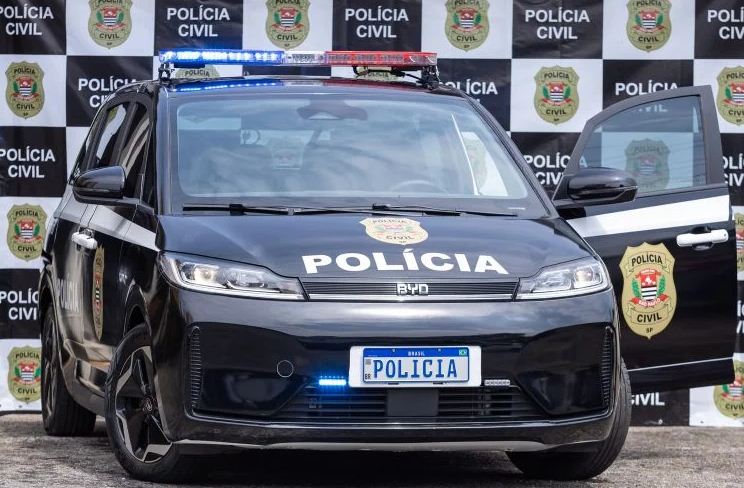 Secured Load
Taking into account that electromobility is not limited to one vehicle, BYD has all the necessary ecosystem and to improve the electric car experience, through its dealer Eurobike, installed a 7 kW type 2 charger in the Transportation Division of the corporation.
According to Henrique Antunes, Sales Director of BYD Brazil, the car is further proof of the brand's involvement in changing the market culture, especially for companies and corporations, which increasingly use sustainable models.
He highlighted that the Civil Police of São Paulo starts a pioneering work with electric vehicles in relation to institutions in other states.
For the general public, the BYD D1 is available in Brazil from July 2022. It is mainly intended for corporate use, but it is also feasible for private individuals to purchase.