After its interesting offer in the European market and its key participation in boosting electromobility in Latin America, the Chinese manufacturer BYD closes this 2022 with historic figures in the production of low-emission vehicles.
On November 16, the brand held a ceremony to celebrate the arrival of 3 million new energy cars produced. For the company, it was not only a symbolic milestone, but also an important achievement for the development of environmentally friendly technologies worldwide.
At the event, Wang Chuanfu, BYD CEO, handed over the 3 millionth new energy vehicle to Wang Shuang, a soccer player who was named the 2018 Asian Football Confederation (AFC) Player of the Year. "It is a great honor to be the owner of BYD's 3 millionth new energy vehicle," said the sportswoman.
"I hope everyone can support sustainable mobility to help cool the Earth by 1℃ and show our strength to the world," Shuang added.
For his part, Chuanfu noted that BYD will continue to focus efforts on scientific innovation. He also assured that they will continue to contribute to the pursuit of a better life for people with advanced technologies and diversified products.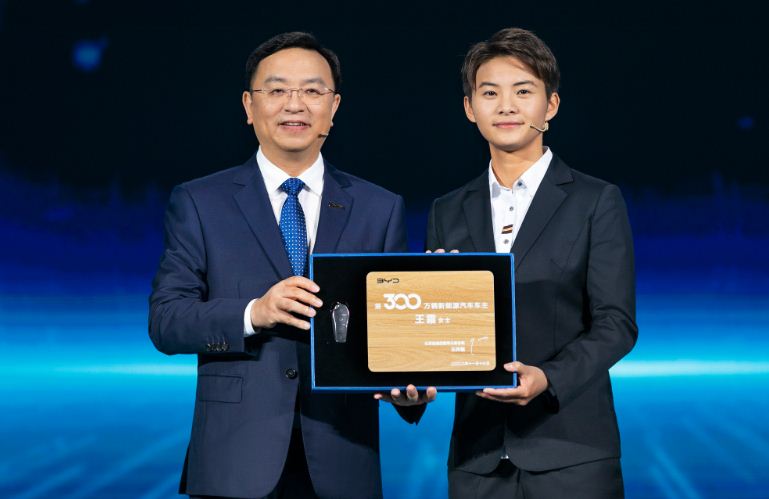 Read also: "Order Now": The New Geotab Solution to Centralize Services
High-tech and New Projects
The BYD president further stressed that based on the current "Four-in-one" safety system that ensures the safeguarding of battery raw materials, battery cells, battery packs and vehicles, the manufacturer will introduce another pioneering technology to further improve the system.
Chuanfu also took the opportunity to announce that they will create a new high-end brand targeting the luxury market, "Yangwang", with disruptive technologies and products. Their next model will be launched in the first quarter of 2023 and will offer users unprecedented high performance.
The launch of the 3 millionth new energy vehicle is not only an important milestone in BYD's history, but also a vital step in witnessing the acceleration of sustainable mobility globally.
In the future, the Asian firm will continue to collaborate with partners from various sectors to achieve high-quality development. Under this alliance, BYD will also persist in facilitating the progress of the global new energy vehicle industry and accelerating the transition to a greener world.
While it took 13 years to BYD to achieve the first milestone of one million new energy vehicles, only one year later it reached the milestone of one million to two million new energy vehicles. Now, in just 6 months, it reached the round figure demonstrating tremendous acceleration in the industry.