A vehicle committed to a new world. This is how BYD defines its 100% electric car e3HB, which arrives with a mind-blowing international sports design. As demanded by the advances of the new era, the model has an imposing body, long kilometers of autonomy and innovations adjusted to the sustainability strategies that are the main vision of the company. 
The prototype features a wide structure, and the side extension presents a stronger visual effect that makes the car elegant and fashionable with the new times.
It has a turning radius of 5.2 meters with range versions of between 300 and 400 kilometers, demonstrating the high power of the battery on a full charge.
Regarding the New European Driving Cycle (NEDC), a test designed to evaluate the environmental impact of automobiles, the e3HB has a battery consumption that depends on various factors impacting directly on the autonomy, such as driving conditions, climatic variables, topography, terrain, driving speed, weight, tire condition, among others.
Optimal Performance
On BYD's ambitious model, the highly integrated control system enables low energy consumption and outstanding performance, with an environmentally friendly and economical ride. Additionally, it provides important features such as zero emissions, 8-year or 500 thousand kilometers warranty and high voltage battery. Furthermore, the e3HB has a special design by German experts and a charging time of 6 hours and 20 minutes.
Model Details
The vehicle's main attributes include innovative LED lights, explosive sporty design and 16-inch aluminum alloy wheels. It has a battery capacity of 47.3kWh and in the versions with a range of 400 kilometers presents a maximum power of 70kW and 180Nm of torque.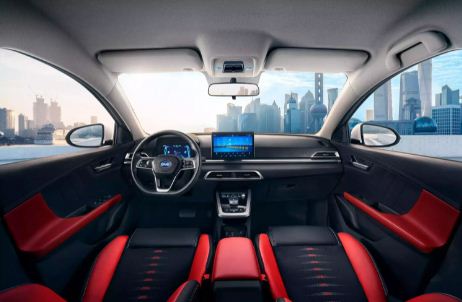 Inside, BYD's creation has several new-generation technological details. Among them are a GPS, synthetic leather upholstery, 10-inch touch screen with multimedia system and a steering wheel adjustable in height and depth. In addition, it includes the Drive Select driving mode system, with three basic options: Eco, Sport and Drive, which modify the engine's performance by prioritizing economy or performance.