Through its technological fleet management and administration platform, based on telematics and artificial intelligence, Geotab has recently achieved milestones such as the achievement of 3 million connected vehicles worldwide and the distinction of being the world's number one provider of commercial telematics for the third time, according to ABI Research.
These achievements are underpinned by efficiency in its operations with all customers to whom it supplies its innovations and concrete data set out in its sustainability reports.
A few days ago, Geotab published greenhouse gas (GHG) figures for 2021, reflecting that the company's total carbon emissions decreased by 14% compared to 2019.
According to the data, the company achieved a 6% reduction in Scope Type 1 emissions, 21% in Scope Type 2 emissions and 14% in Scope Type 3 emissions.
It should be noted that Scope 1 covers direct emissions from sources owned or leased by the company, Scope 2 includes indirect emissions from power generation acquired by Geotab, while Scope 3 covers the remaining indirect emissions, which are not owned or controlled by the company, but are related to its activities and operations.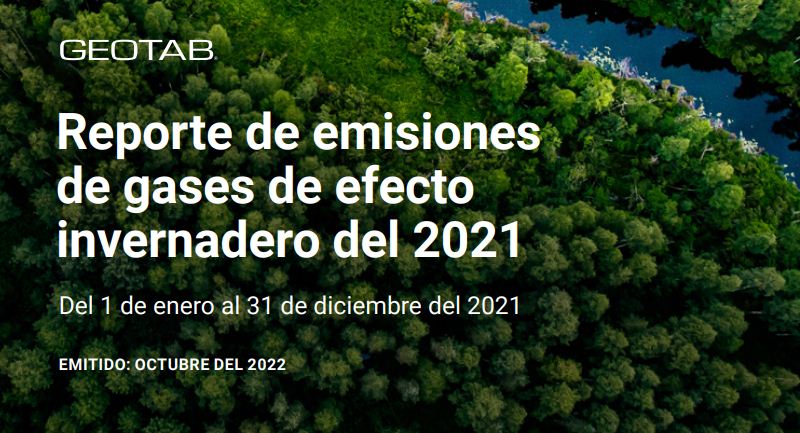 Read also: Geotab, Autocab LeasePlan and Megaflux Analyzed the Corporate Fleet Management Challenges at "Latam Mobility: Mexico 2022"
A Large-scale Strategy
The recognitions received by Geotab do not arise from impromptu moves, but are part of a roadmap designed around sustainability and decarbonization.
In line with its objectives, Geotab has joined initiatives such as The Climate Pledge, Science Based Targets, We Mean Business Coalition and Race to Zero, thus committing to report annually on its GHG emissions.
In that regard, Ivan Lequerica, VP of Southern and Western Europe at Geotab, noted that to support its partners and customers, they provide sustainable data-driven solutions to help accelerate the reduction of carbon dioxide emissions while maintaining a profitable business.
The company powers tools that work on a set of concrete figures that reveal the real-world performance of electric vehicles in order to decarbonize fleets.
To achieve the stated goals, Geotab drives platforms for Electric Vehicle Adoption (EVSA), the Green Fleet Charting Dashboard, the Electric Vehicle Range Temperature Tool and the Battery Degradation Tool.
In total, the net decrease in Scope 1, 2 and 3 GHG emissions in 2021 was 6,129 metric tons CO2e versus 2019. Geotab is thus making progress towards its goal of halving its emissions by 2030 and achieving net zero emissions by 2040.