Charging infrastructure is a fundamental part of the aspirations to consolidate electric mobility worldwide. The vehicle autonomy with this technology is still a pending issue, so chargers and companies that manufacture them have a vital role to play.
One of those companies responsible for producing the chargers is Tritium, which designs and produces proprietary hardware and software to create these very fast devices, aimed at next-generation cars.
With a compact system and robust innovation, Tritium's chargers are configured to be easily installed and used on major city streets. The company's vision of work is focused on the constant improvement of technologies and support of partners around the world.
Range of Proposals
The Tritium product line includes chargers ranging from 50 kW to 350 kW. The PK350, presently the company's most powerful DC fast charger, makes up the largest part of the IONITY network in Europe. 
In addition, the company launched its RTM DC fast dispenser in 2020, an upgradable device that gives companies the flexibility to scale from 25kW to 50kW and up to 75kW.
Throughout its history, Tritium has been part of many successful charging installations and milestones. For example, this year it achieved two major accomplishments. First, it set a record for the largest universal fast charging station in the United States at Revel's Brooklyn Superhub, which includes 25 of the 75kW RTM fast chargers. Second, Tritium partnered with GRIDSERVE to create the UK's most extensive high-power highway charging site, with 12 PK350 fast machines.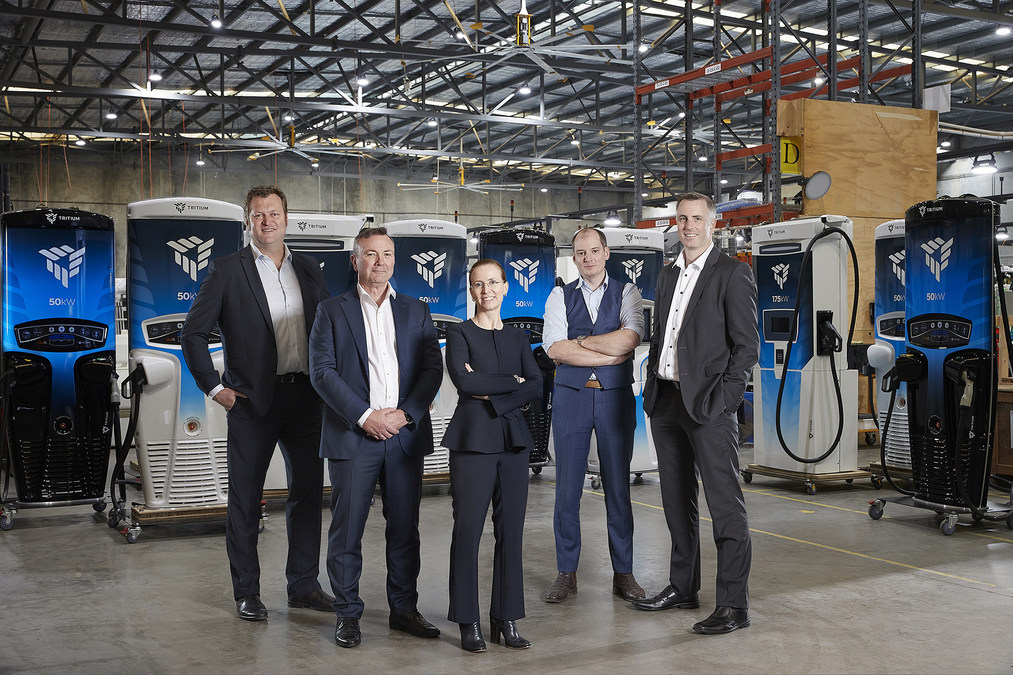 In addition, the manufacturer kept a strong focus on customer and driver satisfaction, going the extra mile to ensure that the company's products enjoy an extended life cycle. As part of this commitment, Tritium released a software update for its RT50 DC fast chargers, which enables Plug and Charge technology globally. The RT50, launched in 2014, is the original fastest and the first on the market to be fully liquid-cooled and IP65 rated.
Award-winning Technology
Tritium's outstanding work in innovation has not only led to exciting partnerships, but also to significant recognition. The company was recently named "Charging Point Manufacturer of the Year" by the Electric Vehicle Excellence and Innovation Awards (EVIE) for the success achieved after launching a variety of products, introducing key new partnerships and announcing new charger installations.
After unveiling its new Modular Scalable Charging (MSC) hardware platform and innovative RTM fast charger in November 2020, Tritium achieved the highest level of product demand and the largest backlog in the company's history, leaving it as one of the world's leading charger designers and manufacturers globally.
Jane Hunter, CEO of Tritium highlights that the recognition is a great vote of confidence from the electric vehicle industry. "Across our business, the goal is to differentiate ourselves by delivering best-in-class technology, customer satisfaction and operational excellence, going above and beyond to accelerate the transition to electric mobility," she said. 
He assured that the global electric vehicle industry is expanding rapidly, so they are preparing to grow in the market and become the first choice in DC fast charging technology.
Where it all Began
Tritium's project began to take shape in 1999, when the SunShark team placed third in the World Solar Challenge and received the GM Sunraycer award for technical achievements that could be applied to real-world technology solutions. 
That recognition was the starting point for Tritium's founders, Drs. David Finn, Paul Sernia and James Kennedy, to become passionate about electric mobility. As a result, they founded the company in 2001. They started as a micro-business, selling Gold Controller, a product that was first used in SunShark and is still manufactured and sold today.