In order to become a key player in the transition to electromobility, Nissan Mexico is leading a project of electrified heavy vehicles with Transportes Marva.
This is a fleet of 10 electric tractor-trailers from Transportes Marva, which will serve Nissan Mexicana at its Aguascalientes plant.
The units are class 8 model Q3MA with a payload capacity of 40 tons and a range of 320 kilometers (fully loaded).
They have two motors coupled to the differential, which work as electromagnetic brakes that help the braking process and reduce the wear cost of brake pads and peripheral components.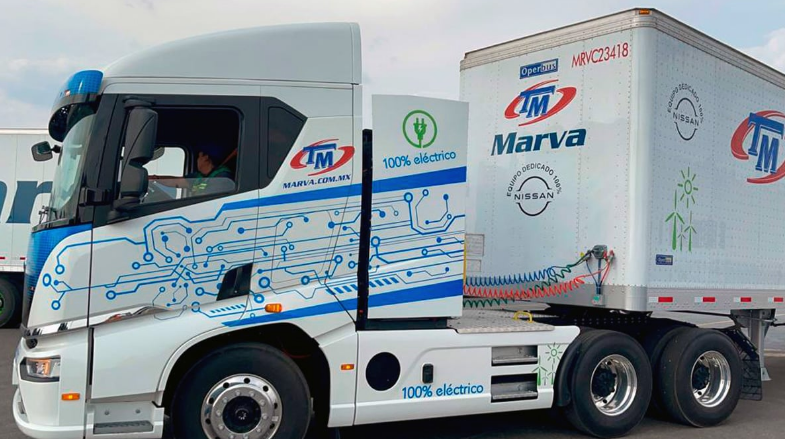 Read also: Mexico: Automotive Industry Presents Proposals to Strengthen the National Strategy for Electric Mobility
Progressive Plan
Transportes Marva will gradually migrate its total fleet over the next three years. Initially, they will operate in Aguascalientes, Puebla and Mexico City to strengthen the electromobility ecosystem.
Miguel Ángel Martínez Millán, CEO of Grupo Marva, highlights the company's commitment to the country and society, underlining its role as a pioneer in 100% electric heavy-duty vehicle solutions.
For his part, Iván Dávila, Logistics Director of Nissan Mexico, highlighted the importance of both companies marking history and traveling together the first kilometers of the nation's electromobility era.
This milestone sets a precedent for other industry players, promoting environmental improvement for the benefit of humanity.
Strategy and High-Tech
The brand's electrification roadmap is underpinned by the Nissan e-POWER innovation, which has already been presented in Mexico. This is a new electric motor system that does not have to be connected to a charging station to recharge energy.

The manufacturer assures that this technology will provide customers with "powerful acceleration, silent operation and an exceptional driving experience."
Unlike other powertrains currently on the market, with Nissan e-POWER the wheels are driven exclusively by an electric motor, while a gasoline-powered generator recharges the vehicle's battery.